Water where it doesn't belong? The Action experts are here to help!
Water damage goes far beyond what you can see and smell and can quickly compromise your entire structure. At the first sign of water damage, contact the top-rated team who cares — Action Restoration and Property Services!
From water damage cleanup to complete home restoration, we're your local trusted team, and we're on the way!
Immediate Response is Key
Water damage is caused by a wide variety of sources including flooding, plumbing and appliance failures, roof leaks, foundation cracks, and more. The harmful effects of water are sharply reduced by prompt and effective intervention, especially within the first 24 to 48 hours. Wet buildings must be rapidly dried to prevent the significant health risks and liability of secondary damage such as mold, mildew, and damage to structural elements and contents.
Immediate emergency response by Action Restoration & Property Services will quickly stabilize your property and mitigate further damage. Action Restoration & Property Services responds to and mitigates all types of property losses, including water damage, throughout Northern Colorado. As a property owner or manager, you'll benefit from our unparalleled expertise and customer service.
Fast Response When You Need Us
Regardless of the source, we dry water losses fast. We're on the scene in no more than two hours after the initial call, with highly-trained, certified technicians, state-of-the-art equipment, and a dedication to getting things back to normal as soon as possible. We offer 24-hour emergency response because water damage doesn't always occur during regular business hours. As a locally owned and operated family business, we are your neighbors, ready to respond to the local Fort Collins, Windsor, Loveland, or Greeley area at any time.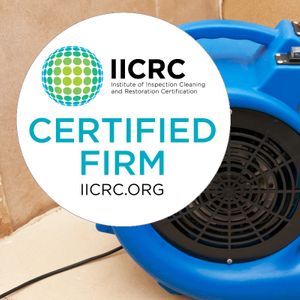 Applied Structural Drying Certified Technicians
We understand that mitigation is not complete unless all elements of the structure are truly dry. Our Applied Structural Drying (ASD) certification as wet technician experts ensures that we have the technical expertise to leave properties completely dry to eliminate secondary damage such as mold and structural damage. Action Restoration & Property Services has passed the advanced Institute of Inspection and Cleaning and Restoration Certification (IICRC) process. As certified water restoration technicians, our crew must not only pass written examinations, but also demonstrate a commitment to ongoing training, carry comprehensive insurance, and maintain high standards of professional conduct. This ensures you're getting the best of the best.
Specialized Expertise
Action Restoration & Property Services offers a variety of drying methods and systems so we can utilize the best option for your loss. You can rely on Action Restoration & Property Services to know which method of drying will be best suited for your situation. Our experience, ongoing education and training program, and our broad range of drying tools and equipment allow us to dry any mess as quickly and efficiently as possible!
Frequently Asked Questions
How long will it take my property to dry?

As long as it takes! Since no two property losses are the same, no two drying times are the same. We can assure you that we'll complete the project as quick as possible, but the amount of time it takes for your structure to dry will depend on several factors including: the source of water damage, types of materials damaged, the lapse in time between initial water damage and initiation of water drying, and more.

Can you help if the water damage is sewage water?

Yes! Our services include sewage damage restoration as well as carpet and upholstery cleaning.

The house feels dry, is it good to go?

Floors and building material may feel dry long before they are actually dry. Prematurely discontinuing the drying processes or not thoroughly drying the area can result in mold and mildew and continue the rotting process. It's important to continue the drying process until all moisture is gone.

What happens after everything is dry?

When everything is thoroughly dried, our restoration technicians will inspect and asses all materials to check their structural integrity. If necessary, we can replace materials to restore your house to better than it was.